This season could prove to be a big season for breakout wide receivers for Georgia Tech. Earlier this week, Robert wrote about Northwestern-transfer Kyric McGowan would be able to make an impact. I think McGowan has a chance to be pretty good, but I think there's another receiver who has a chance to really become something special this season: Avery Boyd.
Since Paul Johnson first became the coach at Georgia Tech, it has always been essential that the receivers fit a certain prototype: big, physical, able to block, able to get up and catch deep balls.
With Geoff Collins coming in with Dave Patenaude's offense, that prototype isn't quite as necessary, as we've seen with guys like Ahmarean Brown (and presumably McGowan) making an impact, but Collins is going to keep using guys like that. His first shot with that was Jalen Camp, even if he was a holdover from the CPJ-era.
Boyd locks in the size, standing at 6-foot-2, 212 pounds which, short of Darren Waller, is about where the rest of the CPJ receivers were at. He also brings in some really good athleticism, running a 4.4 40-yard dash in high school.
But what about the physicality?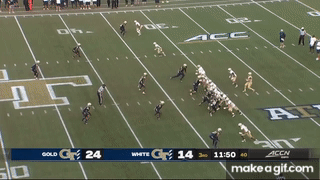 Ed. note: Apologies for the quality/size of this gif. I tried to export it at higher quality, and it failed every single time, so you can click here to watch the play on YouTube for a better picture.
In this clip from the Spring game, we see Boyd go up over the safety (Derrik Allen) and essentially just plucks the ball out of his hands. Throughout the spring game, most of the six passes that were intended for Boyd (most targets on the team) were deep balls, so that could mean that this is what we are going to get from Boyd this year.
Now, it's important to mention that yes, Boyd's passes mostly came from Jordan Yates, so going solely off of his spring performance, he'll probably be one of the first guys off the bench. But when you have have a big physical receiver that can haul in deep balls, you're going to find a way to get him in the game.
I think it's also worth noting that Boyd is sporting a single-digit jersey (he wears No. 9). Those single-digit jerseys have to be earned, so if Boyd has done enough to earn that No. 9, I think it's perfectly feasible to believe that he could truly break out this season.
What do you think? Will Avery Boyd be Tech's next big play receiver?