News was released yesterday that former Oregon head coach and recent Philadelphia Eagles head coach Chip Kelly has been fired by the organization, a week before its season was due to end against the division rival New York Giants. Speculation has mounted for months that Kelly, whose success on the professional level was nowhere near that of his success at the college level with Oregon, would return to the college ranks after his time with Philadelphia was up. With that being said -- could Chip Kelly be headed to Georgia Tech?
I know what you're thinking, and trust me, I do understand how that may seem impossible. But when things seem impossible, it's important that we take a lesson from Rob Lowe as "The Grinder", and say....
"But what if…it wasn't." #TheGrinder pic.twitter.com/3malBGiOSj

— The Grinder (@TheGrinderFOX) October 7, 2015
The Grinder is right. Let's examine the #facts here:
Some Georgia Tech fans choose to ignore recent history and want Paul Johnson gone RIGHT NOW. It would be a totally rational move and we should probably listen to them.

When Johnson is replaced, it would be easiest to bring in a coach who also likes to run the ball.

Chip Kelly likes to run the ball.

Georgia Tech has had lots of success with former NFL head coaches, such as Chan Gailey, who won precisely 7 games in all but one season!

Chip Kelly is a former NFL coach.

Chip Kelly used to coach at Oregon, which is notorious for being the crown jewel of Nike. He probably liked that!

Georgia Tech is the slightly less-shiny and cheaper crown jewel of Russell Athletic, which is responsible for such masterpieces as these Alcorn State uniforms:

Georgia Tech is really far from Philadelphia.
Chip Kelly probably wants to be really far from Philadelphia right now.
Clearly, we're approaching the territory somewhere between the possible and the impossible...although I have no idea what we'd call that.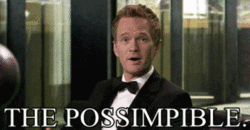 Right, thanks Barney.
OPEN YOUR EYES, SHEEPLE. THIS IS HAPPENING.
Have I forgotten any reasons that Chip Kelly is obviously coming to Georgia Tech, perhaps even as we speak?
Obligatory: This post is meant to be satirical and anything contained within should not be taken as fact.