Former Georgia Tech wide receiver and recent draftee of the San Francisco 49ers DeAndre Smelter recently sat down for an interview with 49ers.com about his past as a baseball player and future with San Francisco. At one point during the interview, Smelter mentioned that he once struck out current Washington Nationals star Bryce Harper, one of the most universally hated athletes down here in Atlanta, during the Athletic All-American game a few years back. If my math is correct, this means that Harper is 0-1 against Smelter, which means that Smelter is a 100% genuine better baseball player than Bryce Harper and should probably be awarded the Cy Young award for his efforts. You have no argument against this fact.
Ole Miss became the most recent team to contribute to the growing trend of buying flashy rings to commemorate trivial events that is currently sweeping college football when they ordered rings to celebrate the team's participation in the Peach Bowl. The rings are considered "participation rings", though I'm not sure how you can call what Ole Miss did in that game participating -- they got blown out 42-3 at the hands of TCU. I'm just trying to figure out when college athletics became a little league soccer team that hands out trophies just for signing up. Won a game? Have a ring. Made a bowl? Have a ring. Got curb stomped on national television? Have a ring. It should be flat-out illegal to give any kind of award for losing a football game. In fact, it should be illegal to give an award for winning most football games. Here are the situations where I think it is acceptable:
-Winning the national championship.
-Winning a conference championship.
-State champions (beat at least the two best teams in the state).
-Beat an FCS team (applies to Wake Forest and Vanderbilt only).
Anything outside of that is just silly and I deserve a ring of my own for saying so. Or at least a plaque. Something like this: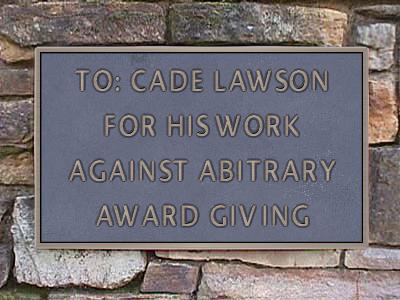 For me? Aw, how thoughtful.
The calendar has officially turned to June, which means that 1) there will be no college sports to watch or write about for just under 100 days and b) the Rolling Stones concert at Bobby Dodd Stadium is now just over a week away. Tickets to the event are currently just under $90 on StubHub, which seems like a reasonable price to see the iconic band perform in person before they head out of town once and for all (I assume).
Georgia Tech is facing a real problem with talented quarterbacks transferring from one opponent on the upcoming schedule to another. Just  a couple of weeks after the announcement that Everett Golson would move from Notre Dame to Florida State, former UVA quarterback Greyson Lambert announced his intentions to transfer away from the Hoos and, quite possibly, over to Georgia. While I actually find it funny that UGA fans think they will contend this season if their best hope at quarterback is a guy who can't hack it at Virginia, I still wish these guys would consider moving to the B1G or Pac-12. I guess everyone wants a swing at that high school offense after all.
When is it acceptable to award a ring or other accolade for an accomplishment?
Have a great Monday!