I thoroughly enjoy college football. The sights, the sounds, the glory, the defeats. Not much better. I really enjoy the little guy climbing to the top. I'm also a little pretentious when it comes to college football trivia. I like reflecting on obscure midmajor stars of yore that had brief moments of glory on ESPN like Bowling Green's
Omar Jacobs
(
2
), LA Tech's
Ryan Moats
(
2
), and of course my personal hero in Hawai'i's
Timmy Chang
(
2
). For me, the best part of these guys' stories are the particularly heroic performances against insurmountable odds (e.g.
Omar Jacobs versus Wisconsin
or Chang's bowl game shootout with Houston's Kevin Kolb).
They're the random no name guys that are 90+ overall on your X-Box's version of NCAA. And they are heroes to the little guys: the Idahos, the Colorado States, the FIU's. Teams with little to no winning tradition (thus excluding the BYU, Boise States, or Utahs).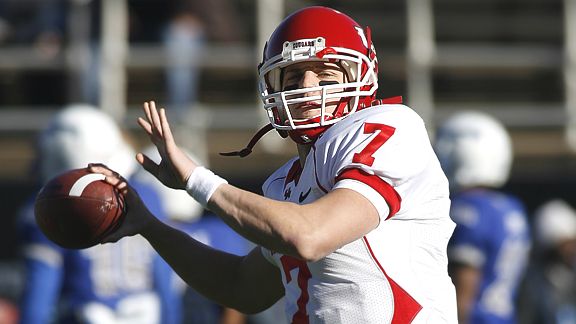 This year I'm looking for the next midmajor superstar. I'm thinking
Case Keenum
of Houston will have a great shot. For being the C-USA Offensive POY, Case was relatively silent on the national stage. This year, he's got two back-back big time opponents right at the start of the season to get the hype train fired up (OKSU on 9/12 and TTU on 9/26).
Any other midmajor stars we should watch for this season? Maybe the CMU QB Dan LeFevour?